<!-–TYPO3SEARCH_begin-–>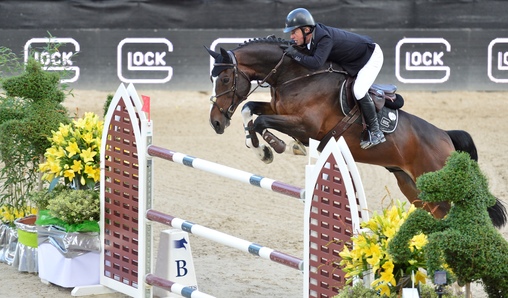 Thursday, 24 September 2015
CSI5* Vienna Masters
Top placements for Gerco in the Gaston Glock's Grand Prix Vienna Masters
From September 17th till 20th, 2015 the World's best show-jumping riders met up for the Vienna Masters. The highlight was the Gaston Glock's Grand Prix Vienna Masters on Sunday, a world-ranking show jumping test with prize-money totalling 100,000 euros. Equestrian sport aficionados enjoyed this special finale against that unmistakable, GLOCK-style backdrop, something one would otherwise only experience at the international tournaments at the GLOCK HORSE PERFORMANCE CENTER.

GLOCK rider Gerco Schroeder entered with GLOCK's Cognac Champblanc and GLOCK's Zaranza. On Friday, twelve-year-old 'Cognac' presented himself again in top shape at the CSI5* Opening Competition, mastering the 1.45 m high course with no penalties over the obstacles. GLOCK's Zaranza, an eleven-year-old KWPN stallion, was able to score twice in the impressive setting of Vienna town hall square. On Saturday, in the Vienna Challenge (1.50 m), Gerco calmly piloted the strong jumper and son of Karandasj through the basic course, entering the jump-off with another 15 duos. Here the two again remained penalty-free, gaining them seventh place.

In the grand finale on Sunday, the Gaston Glock's Grand Prix Vienna Masters over 1.55 m, Gerco again banked on 'Zaranza'. Only the ten best riders from the demanding first round were able to enter the second round and compete for the top ranks, amongst them also the GLOCK duo. Gerco and GLOCK's Zaranza entered the test with confidence and were able to celebrate an excellent sixth place.
<!-–TYPO3SEARCH_end–->