<!-–TYPO3SEARCH_begin-–>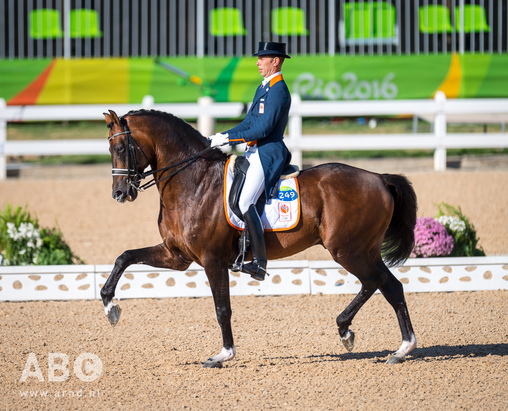 Thursday, 11 August 2016
Olympic Games Rio 2016
Top ten placing for Hans Peter and Johnson
The second part of the Olympic Grand Prix is on today's sporting programme at the Deodoro Olympic Equestrian Center and, for Hans Peter and Johnson, that means they're on starter's orders to give their best. Following the withdrawal of their team rider Adelinde Cornelissen, the Dutch team contingent is now down to three and that means an exceptional sporting challenge. Early in the morning, Hans Peter avails himself of the opportunity once more briefly to ride in the main arena with Johnson. The mighty KWPN stallion (Jazz x Flemmingh) feels great and the setting seems to suit him.
But then it's a matter of waiting, because Hans Peter and Johnson are scheduled as the last duo to start for The Netherlands, only entering at 15:24 local time. Back in the stall, Anna takes care of 'her' Johnson. His coat gleams like shining silk, as Hans Peter finally rides into the Olympic arena. Let the Grand Prix begin. Now Hans Peter must deliver not only good team and individual results but also take care, because his team cannot discount the worst result. Johnson delivers many wonderful moments, a wonderfully strong trot, extensive gallop and rhythmic change. The judges award 76.957%, meaning Hans Peter lies in intermediate ninth place, with the team in fourth place.
"Of course, we want to win a medal", said Hans Peter to waiting journalists today. "I sensed Johnson was less energetic today and there were some tiny details here and there. Even though it's going to be tough, we still want to win a medal". Will they succeed?
Tomorrow the Grand Prix Special, for which the six leading teams and the eight best single riders have qualified to compete. Among them, Hans Peter and Edward with the Dutch team. "Johnson has been with me since he was four years old. He's an extraordinary horse and surely the most beautiful one in these Olympic Games. I'm terribly proud of him and we'll give our best again tomorrow."
The Olympic Dressage Programme
Monday, 08/08/2016
from 3:45pm Rio time (8:45pm CET
Vet check
Wednesday, 10/08/2016
from 10:00am (3:00pm)
Grand Prix (1st stage of team & individual competition)
Thursday, 11/08/2016
from 10:00am (3:00pm)
Grand Prix (1st stage team & individual)
Friday, 12/08/2016
from 10:00am (3:00pm)
Grand Prix Special (team final & 2nd stage individual)
Monday, 15/08/2016
from 10:00am (3:00pm)
Grand Prix Freestyle (individual final)
<!-–TYPO3SEARCH_end–->