<!-–TYPO3SEARCH_begin-–>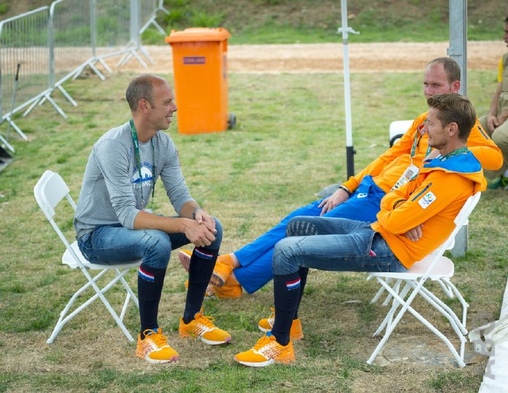 Tuesday, 09 August 2016
Olympic Games Rio 2016
Training good, vet check top – ready to go!
It's Monday and at last the time has come. For the first time, the team can train in the grand arena, called the "field of play" of the championships. This training session also has a particular name: it's called "dressage familiarization", a chance to get used to the arena. To this end, all of the judges' huts, flowers, cameras and of course the dressage arena are laid out precisely as they will appear on Wednesday (10/08) for the Grand Prix. Thus the horses have an ideal chance to get used to them. The music is played sometimes louder, sometimes quieter, announcements come from the loudspeakers and even the sound of spectators' applause is mixed in.

Each country receives a precise time allowance for presence on the field of play and all comply. There's a flash of orange as the Dutch team enters. In deep concentration, Hans Peter and Edward exercise their horses. With his flowing mane, Johnson makes a spanking impression; muscular, powerful and in top condition. Hans Peter practises a few changes, half-passes, piaffes, praises his stallion and gives him a long rein. "Well done" is the message for "Johnny", who strides onward. Voice stands like a glossy black statue under Edward. His ears pointed, he awaits the signal that he may start. The movements seem easy, casual and willing. Edward praises his stallion, who doesn't appear to be particularly unsettled by the huge arena. Now it's back to the stables and, with the vet check scheduled for the afternoon, first they all want to cheer on the Dutch team eventing riders.

It isn't solely in terms of styling that the Dutch are forever returning as champions, but there's no denying what a highlight the team presented on this day in their smart suits, matching shirts, shoes and ties. All the horses were turned out with glossy coats, similarly shiny hooves, top-fit and ready for the Olympic Games. It's that all-important "accepted" for all four so these, the 31st Olympic Games, can commence for us too.
The Olympic Dressage Programme
Monday, 08/08/2016
from 3:45pm Rio time (8:45pm CET
Vet check
Wednesday, 10/08/2016
from 10:00am (3:00pm)
Grand Prix (1st stage of team & individual competition)
Thursday, 11/08/2016
from 10:00am (3:00pm)
Grand Prix (1st stage team & individual)
Friday, 12/08/2016
from 10:00am (3:00pm)
Grand Prix Special (team final & 2nd stage individual)
Monday, 15/08/2016
from 10:00am (3:00pm)
Grand Prix Freestyle (individual final)
<!-–TYPO3SEARCH_end–->