<!-–TYPO3SEARCH_begin-–>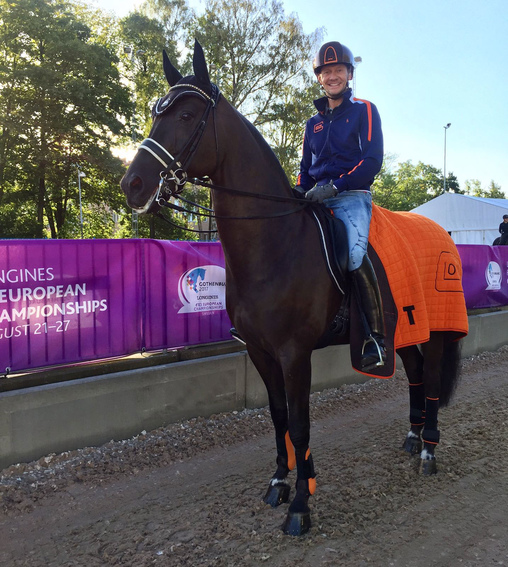 Monday, 21 August 2017
European Championships Gothenburg 2017
Training went well, time for action!
Today is the last day before the European Championship competitions. 'Voici' evidently had a good night, because he lay down relaxed in a thick bed of straw spread out for him by GLOCK Groom Vanessa. She already lovingly groomed and saddled GLOCK's Voice. All the colours of both rider's and horse's outfits are precisely matched to the event. The orange of the Netherlands on the tendon boots and sweat blanket looks lovely against the black piano lacquer effect of GLOCK's Voice's coat and Edward is correspondingly styled. Today the Netherlands team has a training window at 08:45am in the competition arena of the Ullevi Stadium, so training has been correspondingly planned in detail down to the seconds.

To start, there's a warm-up round on the first warming-up area right by the stables, then the long trip to the Ullevi Stadium, in front of which the next warming-up area awaits. Here Edward trains with GLOCK's Voice in deep concentration and directed by GLOCK Trainer Nicole. Hans Peter and Vanessa are also in continuous attendance and observe the exercises. The steward indicates that the Dutch team are now in line to go in for the "10 minutes" in the preparatory arena, which most closely resembles the actual performance arena. After a few half-passes and flying changes, the way is clear to the main arena.

The stadium is enormous. The very thought that 40,000 people can be seated here gives you goose bumps. GLOCK's Voice is not aware of any of this. He works in a focused manner under Edward's commands and feels thoroughly happy in this environment. Edward is content; he praises and pats the stallion and gives him a long rein. GLOCK's Voice walks through the course to the exit with long strides. Tomorrow it gets serious.
Web: gothenburg2017.com
<!-–TYPO3SEARCH_end–->