<!-–TYPO3SEARCH_begin-–>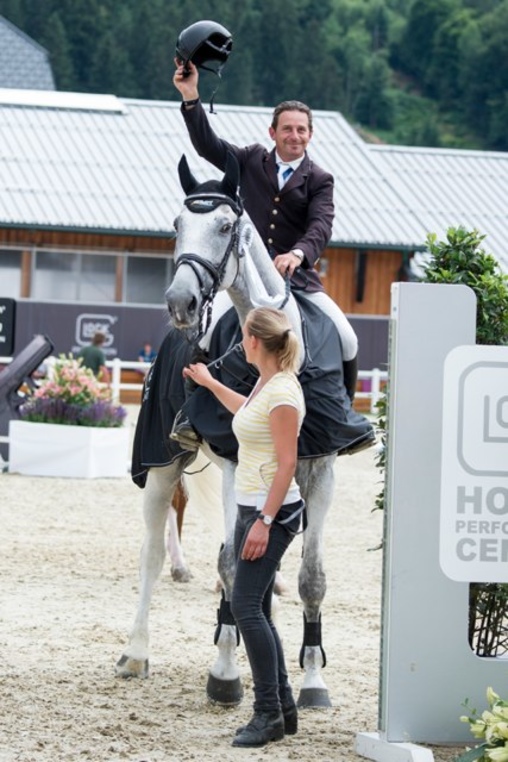 Friday, 05 July 2013
CSI2* Tour 1.45 m
Victory number two for Andy Candin!
A commanding victory yesterday and there was no holding back for Andy Candin (ROU) today. The Romanian risked everything on his round in the CSI2* 1.45 m accumulator. He had no alternative, as shortly before, Thomas Frühmann (AUT) had debuted on his famous The Sixth Sense, posted a superb round in 43.81 seconds with the full number of points (65) and now had a comfortable lead.
But there was room for improvement: Andy Candin and the 11-year-old Holstein gelding Caruso 394 managed the 65 points in 43.12 seconds, thus claiming their second win at the GLOCK HORSE PERFORMANCE CENTER!
Austria's star rider Thomas Frühmann (AUT/Vienna) received a big round of applause for his first appearance here in Treffen. "Everything's simply perfect here. My 'Sense' and I feel totally at home!"
Alexa Pessoa (USA) kept the American flag flying with third place for a spirited round on her nine-year-old Brandenburg mare Levade 35. Austria also clinched a few top placings: fourth place went to Austria's evergreen Hugo Simon (Styria) with an impressive performance on his big jumper, Holstein gelding C.T. (48.51), local girl Marianne Schindele (Carinthia) proved herself in ninth with her eight-year-old mare Merrywell Alfie Douglas and Alice Janout (Lower Austria) on her grey stallion Caballiero finished tenth.
09 | CSI2* Tour
International accumulator competition (1.45 m)
1. Caruso 394 - Candin Andy (ROU) 65 43.12
2. The Sixth Sense - Frühmann Thomas (AUT/Vienna) 65 43.81
3. Levade 35 - Pessoa Alexa (USA) 65 47.89
4. C T - Simon Hugo (AUT/Styria) 65 48.51
5. Roncador - Mayer Jürgen (GER) 65 48.64
6. Levistino - Bruns Ulrike (GER) 65 49.21
7. Quintex - Mühlbauer Thomas (GER) 65 49.39
8. Con Climax - Köhlbrandt Torben (GER) 65 49.61
9. Merrywell Alfie Douglas - Schindele Marianne (AUT/Carinthia) 65 49.84
10. Caballiero - Janout Alice (AUT/Lower Austria) 65 54.09
11. Royal Berry - Najem Joy A. (LIB) 62 54.75
12. Soothe Me de Ness - Channing-Williams Nicholas (GBR) 62 57.14
Results link
<!-–TYPO3SEARCH_end–->