<!-–TYPO3SEARCH_begin-–>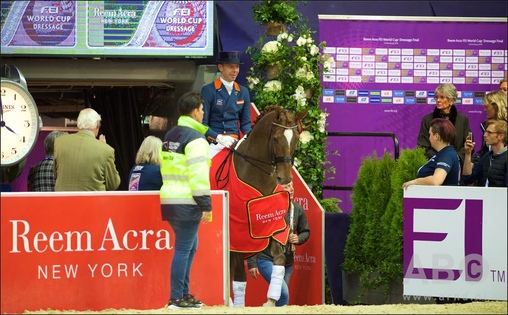 Friday, 25 March 2016
Reem Acra FEI World Cup™ Dressage Final
What a day - what a victory!
If ever there was one who could keep their cool, that's GLOCK's Flirt. For the duration of the FEI World Cup final in dressage and show jumping, like all the other horses this 15-year-old chestnut gelding is accommodated in the basement of the Scandinavium and enjoys a good rub-down from GLOCK Groom Anna. The excitement is more evident in Anna. After all, at today's Grand Prix it's all about entering the World Cup Freestyle, so she's put a lovely shine on 'Flirty'. The entire GLOCK team goes into the warm-up area, where Hans Peter warms up GLOCK's Flirt under the watchful eye of GLOCK Trainer Nicole Werner. The more excited those observing become, the greater seems Hans Peter's concentration. He's completely absorbed and seems to become one with the shimmering chestnut gelding.

Now it's off to the arena. The Swedish spectators are simply superb. They give rousing applause to every rider and create a sensational atmosphere in the Scandinavium. Deep in concentration, Hans Peter and GLOCK's Flirt embark on their World Cup Grand Prix. Hans Peter has already been at five World Cup Finals, but will he achieve his first victory this year? With the exception of a small error before the pirouette, everything goes perfectly. The overall score is 76.871% and now the waiting begins. Because the last rider is Patrik Kittel with his now 17-year-old Watermill Scandic, ready to start and with every chance of giving Sweden victory. But the GLOCK team can celebrate; Hans Peter's score is not to be beaten.

GLOCK's Flirt receives the prized red winner's blanket and, accompanied by the applause of delighted spectators, the duo trot to their award ceremony. The World Cup final in Gothenburg has got off to a good start.
TIMETABLE OF REEM ACRA FEI WORLD CUP™ DRESSAGE FINALS

Sunday, 27/03/2016
1:15pm – Reem Acra FEI World Cup™ Dressage Final Grand Prix Freestyle

IMPORTANT LINKS

LIVE STREAM
The World Cup competitions will be transmitted live on FEI TV at the following times:
Friday, 25/03/2016
12:15pm – Reem Acra FEI World Cup™ Dressage Final 2016 Grand Prix
Sunday, 27/03/2016
12:55pm – Reem Acra FEI World Cup™ Dressage Final 2016 Grand Prix Freestyle
START and RESULTS LISTS
The start and results lists of all Gothenburg World Cup Final competitions are here »
www.gothenburghorseshow.com | www.facebook.com/GothenburgHorseShow
<!-–TYPO3SEARCH_end–->