<!-–TYPO3SEARCH_begin-–>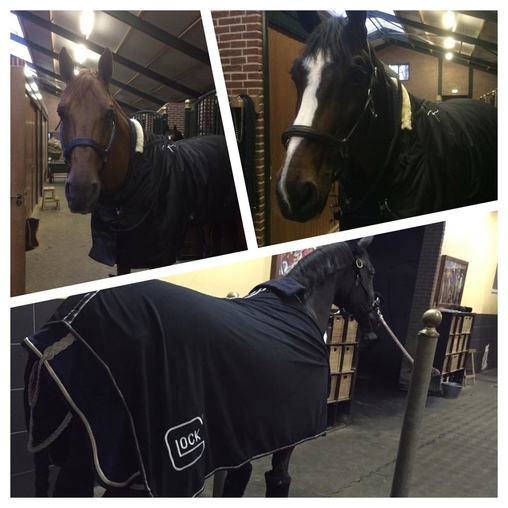 Wednesday, 04 March 2015
CDI-W Gothenburg
World Cup points for Team GLOCK!
When the prestigious World Cup event in Gothenburg pops up on the calendar (26/02 – 01/03/2015), the world's best show jumping and dressage riders certainly don't hesitate to embark on the journey to Sweden. Amongst them are also GLOCK riders Gerco Schroeder and Edward Gal.

GLOCK rider Gerco Schroeder brought GLOCK's Debalia, GLOCK's Zaranza and GLOCK's London N.O.P. along to the Swedish metropolis and was able to be top-seeded with all horses. In the context of the Youngster Tour, there was a lot to see for seven-year old GLOCK's Debalia, and she did a very good job. Right at the start, the daughter of Numero Uno x Lupicor was able to prove her great potential in the 2-phase show jumping test over 1.30 metres, ranking 9th whilst, also in the Youngster Tour finale over 1.40 metres, GLOCK's Debalia delivered a magnificent penalty-free round (12th place).

Gerco remained penalty-free on GLOCK's Zaranza in the CSI5* opening show jumping over 1.45 metres as well as on GLOCK's London N.O.P. in the World Cup qualification over 1.50 metres, where the duo reached tenth place. Furthermore, this performance also gained them some points in the FEI world ranking list. On Sunday, the Longines FEI World Cup™ Jumping course over 1.60 metres awaited Gerco and "London". The GLOCK dream team mastered the basic course effortlessly, then to deliver a magnificent performance in the jump-off too. In the end they celebrated 8th place in this selective test. Thus the two were able additionally to secure their participation in the World Cup finale in Las Vegas (April 15th till 19th).

For the first time since the World Equestrian Games 2014 in Caen (FRA), GLOCK rider Edward Gal started again with 13-year-old GLOCK's Voice and were already extremely successful at the Reem Acra FEI World Cup™ Dressage Grand Prix with 72.760 % and fourth place. At the Reem Acra FEI World Cup™ Dressage Freestyle on Sunday, GLOCK's Voice impressed with beautiful traversals, canter pirouettes turned au point and elastic passages. Up to 79.000 % for technical and 84.000 % for artistic performance meant an ultimate overall score of 78.100 % and third place in the World Cup!

This means that Edward currently ranks fifth in the intermediate ranking of the Reem Acra FEI World Cup™ Dressage – and this ex-aequo with GLOCK rider Hans Peter Minderhoud.

Marieke van der Putten is the Dutch runner-up in the Small Tour!
Whilst Edward Gal and Gerco Schroeder started in Gothenburg, GLOCK rider/trainer Marieke van der Putten set out for Ermelo (NED) to the Dutch Indoor Championships with GLOCK's Federleicht.

Supported by GLOCK rider Hans Peter Minderhoud, Marieke started in the Small Tour and secured second place with GLOCK's Federleicht in the first part on Saturday (73.90 %). Then also in the Small Tour Freestyle on Sunday, the two GLOCK ladies impressed again, achieving second place!
<!-–TYPO3SEARCH_end–->