<!-–TYPO3SEARCH_begin-–>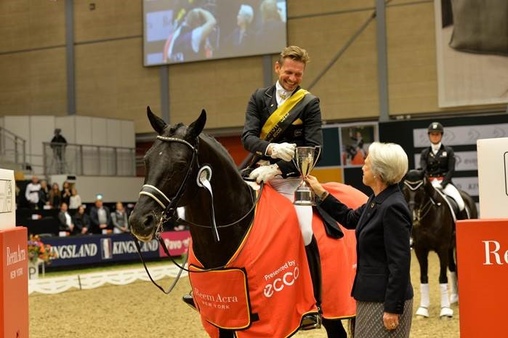 Wednesday, 18 November 2015
CDI-W / CSI3* Odense (DEN)
World Cup victory and great success in Odense
The outdoor season is over so international equestrian sports have recently moved to the world's most beautiful indoor arenas. Last weekend (October 15th - 18th, 2015), the best dressage and show-jumping riders met up at Odense Congress Center (DEN) for the international JBK Horse Show. With Edward Gal, Hans Peter Minderhoud and Gerco Schroeder, all three Dutch GLOCK riders also participated in this event.

World cup kick-off to measure
At the kick-off of the Reem Acra FEI World Cup™ Dressage Series 2015/16, Edward Gal and Hans Peter Minderhoud started with GLOCK's Voice and GLOCK's Romanov. For the horses this was the first indoor event of the season and, during the training units, the two GLOCK riders had given their four-legged stars enough time to get used to the atmosphere. On the Saturday morning the horses were allowed to enter the main arena for the first time, before things got serious at midday. Qualification for the World Cup was scheduled. An overall score of 73.380 % meant second place for Edward and 'Voici' whilst, with 73.320 %, Hans Peter and 'Romanov' came third.

Finally on Sunday in the World Cup Musical Freestyle, GLOCK rider Edward Gal and GLOCK's Voice shone with a magnificent performance. Up to 83.000 % for artistic and 79.250 % for the technical scores gave the dream team an overall score of 78.800 % and victory in the Reem Acra FEI World Cup™. Hans Peter and GLOCK's Romanov achieved a score of 74.350 %. In the overall score of the World Cup series, Edward currently ranks second.

Top results for Gerco and the GLOCK horses
In Odense Gerco Schroeder saddled GLOCK's Zaranza, GLOCK's Chamonix, GLOCK's Champions Ludwig and GLOCK's Lausejunge for the CSI3* tests. On Thursday in the qualification for the Grand Prix (1.45 m), thirteen-year-old GLOCK's Zaranza scored with a penalty-free round, GLOCK's Chamonix and GLOCK's Lausejunge also stayed penalty-free over the obstacles in the Small (1.35 m) and Medium Tour (1.40 m).

'Lausejunge', at just eight-years of age, showed a convincing performance in second Grand Prix qualification over 1.50 m on Saturday, coming twelfth in this world ranking list jumping test. GLOCK's Champions Ludwig and GLOCK's Chamonix tackled the course in the Small Tour (1.35 m) again penalty-free, qualifying for the final on Saturday. In the test over 1.35 m, Gerco piloted nine-year-old 'Chamonix' to 16th place, while 'Champions Ludwig' also remained penalty-free.
<!-–TYPO3SEARCH_end–->