<!-–TYPO3SEARCH_begin-–>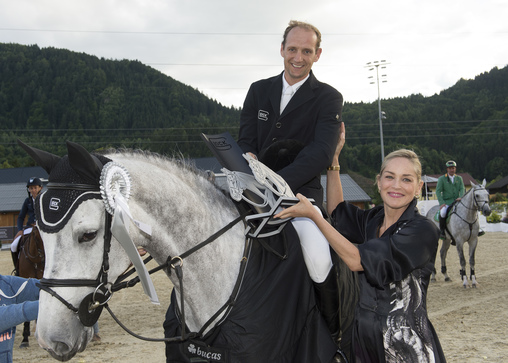 Friday, 05 July 2013
CSIYH1* Young Horses
Home win! GLOCK rider Robert Puck and GLOCK's Alato SR victorious in the Youngster Tour
The international 1.40 m jumping competition in two phases today was a demonstration of power by 36 young horses. First of all, the youngsters and their riders had to clear the course of eight obstacles in the first phase. Only those that succeeded had a chance of placing. From the ninth jump on it was time for action and just one thing: full speed!
GLOCK rider Robert Puck (AUT/Carinthia) pulled out all the stops on his eight-year-old Calato progeny GLOCK's Alato SR. A tremendous jumper, the grey positively flew over the obstacles and the entire GLOCK HORSE PERFORMANCE CENTER cheered when first place flashed up on the scoreboard. None of the others could match his phenomenal time of 32.93 seconds, leaving the likeable Carinthian to enjoy his triumph. "What could be better than winning here at home, at Mr and Mrs Glock's fantastic facility? And if GLOCK's Alato SR carries on jumping like this, I wouldn't put anything past him. After all, he's only eight."
Runners-up were the Zangersheide stallion Asterix E Z and his experienced rider Robert Whitaker (GBR). The two were only just off the mark at 33.15 seconds, but were still pleased with their great round.
Ajaccio, a Quidam de Revel son that is also eight years old, and Bertram Allen made it a very young pair in third. Although only 17, the Irishman looked incredibly calm and collected in the strong starting field to cross the finish with a clear round in 33.54 seconds.
GLOCK rider Dieter Köfler secured another placing for Austria with his sixth place on the only seven-year-old Chaquino.
14 | CSIYH1* Tour
International jumping competition in two phases (1.40 m)
1. Glock's Alato SR - Puck Robert (AUT/Carinthia) 0 32.93
2. Asterix E Z - Whitaker Robert (GBR) 0 33.15
3. Ajaccio - Allen Bertram (IRL) 0 33.54
4. Funky Fred - Ehning Marcus (GER) 0 34.10
5. Abracadabra - Turchetto Roberto (ITA) 0 34.11
6. Chaquino - Köfler Dieter (AUT/Carinthia) 0 34.45
7. Arjo - Fuchs Martin (SUI) 0 34.50
8. Brooklyn - van der Schans Wout-Jan (NED) 0 34.92
9. Sherazade du Gevaudan - Duguet Romain (SUI) 0 34.95
10. Finale - Biessen Ivo (NED) 0 35.03
11. Freestyler - Deusser Daniel (GER) 0 35.14
12. Vanilla 17 - Johannpeter Karina (BRA) 0 37.15
Results link
<!-–TYPO3SEARCH_end–->