<!-–TYPO3SEARCH_begin-–>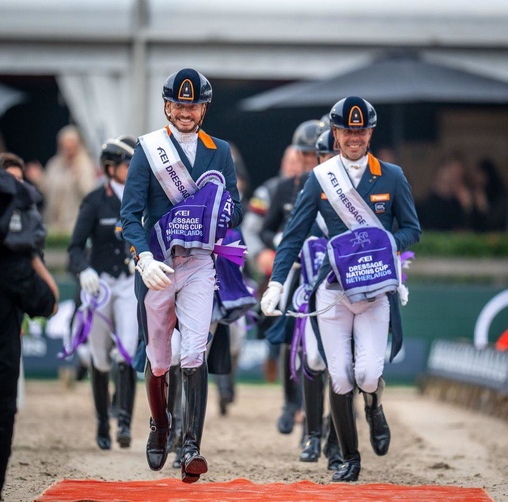 Sunday, 04 July 2021
CHIO Rotterdam (NED)
Successful CHIO Rotterdam
One particular fixed date for the GHPC Netherlands team is the prestigious CHIO Rotterdam. From June 30 till July 3, 2021, GLOCK Rider Edward Gal and Hans Peter Minderhoud were in Rotterdam with their two top horses, GLOCK's Total US and GLOCK's Dream Boy N.O.P., to compete in the Nations Cup.

The competition started with an almost penalty-free Grand Prix, 77.174% and personal best for Hans Peter Minderhoud and his stunning GLOCK's Dream Boy N.O.P.. The duo took second place, ahead of GLOCK Rider Edward Gal on his just nine-year-old GLOCK's Total US. The two had a few mistakes in their first Nations Cup but still placed third with 76.717%.

There was a GLOCK victory to celebrate the following day in the Grand Prix Special, where Hans Peter and GLOCK's Dream Boy scored a great 78.894%. Edward and nine-year-old GLOCK's Total US competed in the musical freestyle of the CHIO and impressed in only their second freestyle. To the music of his sire Totilas and as the youngest horse in the arena, the black stallion cantered to an amazing 84.280% and second place in the five-star competition of Rotterdam.

With ten-year old GLOCK's Toto Jr, son of Totilas, Edward Gal competed in the national tour, the Grand Prix and Grand Prix Special of which the duo won with ease with 75.399% and 76.872% respectively.

The Dutch team with Edward Gal (GLOCK's Total US), Hans Peter Minderhoud (GLOCK's Dream Boy N.O.P.), Marlies van Baalen (Go Legend) and Dinja van Liere (Hermes) also won the prestigious Nations Cup.
<!-–TYPO3SEARCH_end–->