<!-–TYPO3SEARCH_begin-–>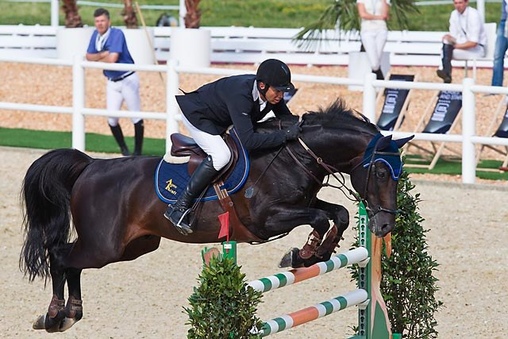 Friday, 05 July 2013
CSI2* Tour — 1.40m
Fast, faster, Rossen Raytchev!
The last starting place at the GLOCK HORSE PERFORMANCE CENTER seems to be particularly lucky this weekend. For the third time a jumping competition was not decided until the last horse galloped over the finishing line. In the international CSI2* 1.40 m jump class against the clock, it was Rossen Raytchev (BUL) with his 16-year-old stallion Capoccino this time that shook up the results again. GLOCK rider Katrin Khoddam-Hazrati (AUT/Styria) had set a best time of 63.84 seconds with her nine-year-old stallion GLOCK's Lightning. All he had to do was beat it and stay clear at all costs.
No problem for the Bulgarian: perfectly judged turns, a fast pace and the Holstein's great ability to jump made it possible. The combination's final lead was an absolutely incredible 4.49 seconds, which secured a more than impressive win in the fabulous time of 59.35 seconds. Eventing specialist Katrin Khoddam-Hazrati and nine-year-old Holstein stallion GLOCK's Lightning, which she showed very successfully at their first international competition together, thus had to settle for runner-up spot.
Third place with a carefully ridded round went to Stefanie Breitenstein (SUI) and her only eight-year-old bay gelding Asterix X. In addition to second-placed Katrin Khoddam-Hazrati, Carinthia's Stefan Leikermoser on his eight-year-old Holstein stallion, Auheim's Cosmo Brown, succeeded in taking home his second placing in sixth and Andrea Skorianz-Jenull scored with a clear round and seventh on Calderon 35.
08 | CSI2* Tour
International jump class scored on faults and time (1.40 m)
1. Capoccino - Raytchev Rossen (BUL) 0 59.35
2. Glock's Lightning - Khoddam-Hazrati Katrin (AUT/Styria) 0 63.84
3. Asterix X - Breitenstein Stefanie (SUI) 0 64.73
4. Kid Rock - Mühlbauer Thomas (GER) 0 65.21
5. Cassano II - Kontio Anna-Julia (FIN) 0 66.18
6. Auheim's Cosmo Brown - Leikermoser Stefan (AUT/Carinthia) 0 66.82
7. Calderon 35 - Skorianz-Jenull Andrea (AUT/Carinthia) 0 66.84
8. AD Vangelys - Abreu Bernardes Flavio (BRA) 0 70.14
9. Wilson - Schans Patrick van der (NED) 0 70.86
10. Caretina de Joter - Köhlbrandt Torben (GER) 0 70.92
11. Untouchable M - Najem Joy A. (LIB) 0 71.01
12. Qualeska - Schnabel Antonia (GER) 0 74.59
Results link
<!-–TYPO3SEARCH_end–->