<!-–TYPO3SEARCH_begin-–>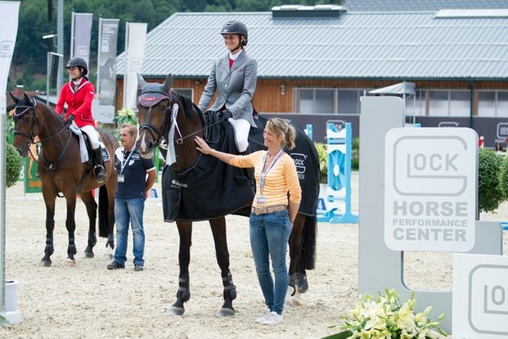 Saturday, 06 July 2013
GLOCK's Amateur Tour Finale
First time, first victory! Natalie Magyer (AUT) wins
In the GLOCK's Amateur Tour final today, 29 international amateurs gave their all. Of them, 13 went clear in the 1.20 m first round and were therefore in with a chance to win the jump-off. It was no easy task, as seven riders again put in fault-free efforts here and five in all were from Austria.
On the first day she went clear with her Hanoverian mare Corona 2, but finished just out of the placings in 13th. The next flawless ride on the second day put her in eighth, but today Natalie Magyer (Lower Austria) improved on her performance with strong nerves and a really cool jump-off to collect the much longed-for win!
"It's my first international competition here and I never thought I'd manage three clear rounds. Awesome, I'm absolutely amazed," beamed the 20-year-old from Stall Lassee at the winner's interview.
There were many Austrians right behind her. Kerstin Mohapp (Styria) on First Sensation M took runner-up, third went to Tyrol's talented young Ann-Kathrin Hergeth on her newly acquired big jumper Contact Me Girl, Theresa Krießmann (Styria) came fourth on Rochester Bounty, Anita Kribernegg-Heusserer (Styria) claimed fifth on Cimet 2 and then there was Silvana Florian (Styria/Revolution 3) in eighth, Birgit Peintner (Carinthia/Gaspari) in ninth, Katrin Pfingstl (Carinthia/Cuela) in eleventh and Gudrun Pirker (Styria/Alpenspan Citadelle) in twelfth place.
18 | GLOCK's Amateur Tour Final
International jumping competition with jump-off (1.20 m)
1. Corona 2 - Magyer Natalie (AUT/Lower Austria) 0 38.18
2. First Sensation M - Mohapp Kerstin (AUT/Styria) 0 39.65
3. Contact Me Girl - Hergeth Ann-Kathrin (AUT/Tyrol) 0 40.14
4. Rochester Bounty - Krießmann Theresa (AUT/Styria) 0 40.84
5. Cimet 2 - Kribernegg-Heusserer Anita (AUT/Styria) 0 41.18
6. Vince - Boon Isabelle (NED) 0 41.56
7. Lucky Sunday - Haberl Wilhelm (GER) 0 43.00
8. Revolution 3 - Florian Silvana (AUT/Styria) 4 40.18
9. Gaspari - Peintner Birgit (AUT/Carinthia) 4 40.67
10. Paolo 56 - Candin Lisa (ROU) 4 40.68
11. Cuela - Pfingstl Katrin (AUT/Carinthia) 4 49.14
12. Alpenspan Citadelle - Pirker Gudrun (AUT/Styria) 8 46.29
Results link
<!-–TYPO3SEARCH_end–->