<!-–TYPO3SEARCH_begin-–>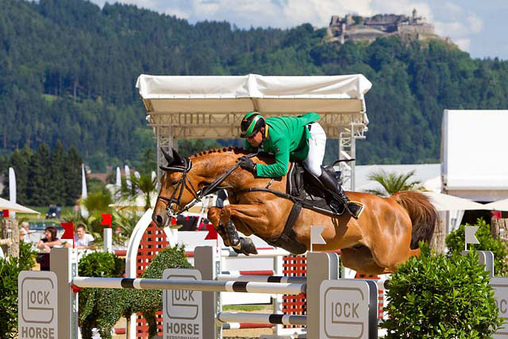 Monday, 01 July 2013
Carinthia in on the act
Local heroes at the GHPC
It's nail biting time again in the GLOCK HORSE PERFORMANCE CENTER over the weekend from 4 to 7 July, as the obstacles at the International Show Jumping event are impressive. Not only Olympic, World and European Champions are among the starters, but also riders from Carinthia are again eager to compete.
The cheers for Carinthia will be loudest during the amateur competitions, where Austria's southernmost federal state has the most riders taking part. No fewer than 15 Carinthians will be matching their skills against the stiff competition. They include strong young ladies such as Franziska Binder, Sandra Köfler, Nika Kulmitzer, Vanessa Matzka, Laura More, Birgit Peintner, Katrin Pfingstl, Katharina Schüttelkopf and Tanja Steinwender who will be vying with their male counterparts Benno Hinteregger, Nikolaus Kostwein, Stefan Leikermoser, Markus Rainer, Dieter Sommerhuber and GLOCK rider David Tschikof for wins and placings.
The most experienced of them are Sandra Köfler from URV Ranftlhof Herzogstadt, who has many wins to her name, and Birgit Peintner from LVLR OG Reitclub Bauer. The reigning regional champion in eventing was placed in every competition at the last show held at the GHPC and we can therefore also expect a lot of her this time.
At the tender age of 13, Nika Kulmitzer is one of the youngest of the Carinthian riders and yet she has already won several titles, including 2012 youth regional champion and silver at the 2012 regional team championships. The talented grammar school pupil trains with the Köfler family and, like her older sister Nani Kulmitzer, is smitten with jumping fever. Nani is starting together with Carinthians Marianne Schindele, Andrea Skorianz-Jenull, Stefan Leikermoser and Franz Josef Rainer in the two-star competitions here at the GHPC and has a lot ahead of her this year. She was selected for the Austrian team to compete in the Junior European Championships in Spain in mid-July.
GLOCK riders Gerfried and Robert Puck and Dieter Köfler add a touch of Carinthian star factor to the world of equestrian sports. Currently number two in the Top of Austria rankings, Gerfried Puck represented Austria at World and European championships and numerous Nations Cups.
Giving everything is also what local hero Dieter Köfler has in mind. The current number three in the Top of Austria rankings knows what it takes to win. He was Austrian team champion twice, national champion (2009), Carinthian regional champion (2011), the first Austrian to win the Linz CSIO Grand Prix in 1998 and clinched the only home win for the country with the Austrian team there in 2009. In 2012 the 42-year-old from St Veit again went all out and enjoyed countless successes with the GLOCK horses.
Carinthia's third star rider, Robert Puck, is also firmly in the saddle. The 38-year-old has been living in the Netherlands for many years but one thing is for sure: Carinthia remains his home and his nationality therefore Austrian! Last year's winner of the Youngster Tour has three GLOCK horses with him this time and intends to attack with them all.
Attention all Carinthians: come and watch, keep your fingers crossed for the stars and enjoy the live action. And what is best of all? Admission to all the competitions is free every day.
<!-–TYPO3SEARCH_end–->