<!-–TYPO3SEARCH_begin-–>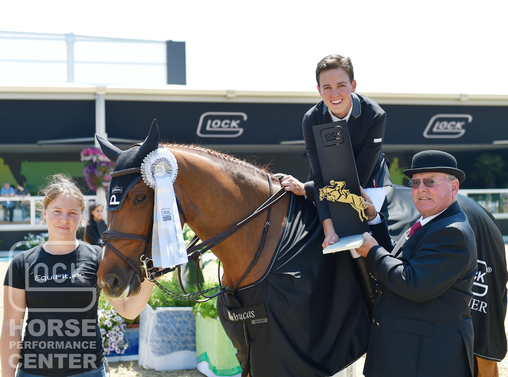 Thursday, 15 June 2017
CSI5* CSI2* CSIAm-A CSIYH1* GHPC
USA before Austria in the GLOCK's 2* Tour
It was one first and two second places for Lucas Porter last year on his first appearance at the GLOCK HORSE PERFORMANCE CENTER, and the US-American rode the wave to a further success today. In the first test of the GLOCK's 2* Tour over 1.35 m, this student of Olympic winner Jeroen Dubbeldam (NED), in the saddle on Cassina 64, rode magnificently to head the field of 28 participants (0/68.58). "My pace in this test wasn't the fastest, but I was able to make up time at the turns. I've still got plans for this weekend and aim to compete for the lead in GLOCK's 2* Grand Prix on Sunday", said the ambitious and likeable winner with a cheeky smile in his interview.
He was approximately two seconds faster than Austrian rider Katharina Rhomberg from Vorarlberg who, at 70.25 seconds, was able to secure second place as the best Austrian rider with her just seven-year-old SWB mare Careless. Third place in this test went to Daniel Engbers (GER) on Evening Black in a penalty-free 70.81 seconds.
In addition to Katharina Rhomberg, Theresa Pachler (NÖ) on Zaphira 14 and Marie-Luise Abraham (K) on Zazou were also able to achieve placings for Austria.
10 GLOCK's 2* Tour
International jumping competition against the clock, 1.35 m
1. Cassina 64 - Porter, Lucas (USA) 0/68.58
2. Careless - Rhomberg, Katharina (AUT/V) 0/70.25
3. Evening Black - Engbers, Daniel (GER) 0/70.81
4. Zaphira 14 - Pachler, Theresa (AUT/NÖ) 0/70.83
5. Chavantele Z - Vorsselmans, Annelies (BEL) 0/71.03
6. Mill Creek Filippa K - Henning, Tonya (CAN) 0/73.04
7. High Voltage SB - Nielsen, Denis (GER) 0/73.39
8. E Clinton - Porter, Wilton (USA) 0/73.90
9. Elisabeth - Raaholt, Line Karlsen (NOR) 0/74.28
10. Dento - Sleiderink, Sjaak (NED) 0/76.66
11. GLOCK's Champions Ludwig - Schröder, Ben (NED) 0/78.51
12. Zazou - Abraham, Marie-Luise (AUT/K) 0/79.46
Link to results

INFOBOX
What: International Show Jumping
When: June 15th – 18th 2017
Where: GLOCK HORSE PERFORMANCE CENTER Austria
VIP day tickets: for requests please call +43 664 8873 4401
Free entry to all competition events
www.ghpc.at
Photo enquiries to:
office@glockpress.at

<!-–TYPO3SEARCH_end–->