<!-–TYPO3SEARCH_begin-–>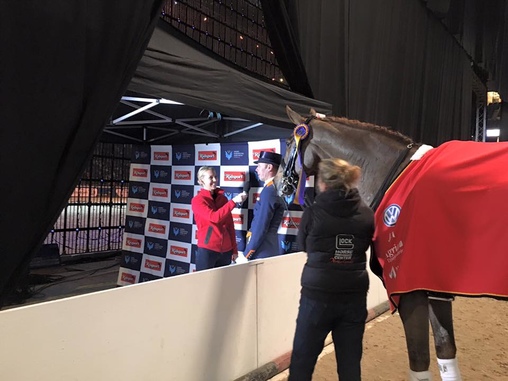 Friday, 04 December 2015
CDI-W Stockholm
World Cup victory, new record and excellent results
For GLOCK rider Hans Peter Minderhoud and 14-year-old GLOCK's Flirt, the CDI-W Stockholm of November 26th till 29th was a tremendously successful weekend. Under his skilful rider, this son of Florestan from Swiss breeding was able to prove how much he had developed in the course of the past one and a half years by winning twice in the Swedish capital.

On Saturday, in the Reem Acra FEI World Cup™ Dressage Grand Prix, 'Flirty' presented himself relaxed and motivated, his performance of the required movements being close to perfection. For this, he and Hans Peter were rewarded with 77.000% and first place by the international committee of judges.

On Sunday the world's best dressage riders entered the World Cup Musical Freestyle. Here again, Hans Peter and GLOCK's Flirt were able to prove that they are in a class of their own. For their pirouettes, the duo were given up to 9 points and for transversals and the like they were also given top marks. The total score amounted to 80.950 %, which not only meant victory in the world cup but also a new record for 'Flirty'.

For Gerco Schroeder (NED) too, this weekend was a happy one. The GLOCK rider participated in the CSI2* Neeroeteren with GLOCK's Chamonix and GLOCK's Debalia. Both horses performed very well. Seven-year-old Debalia jumped outstandingly well every day, remaining twice-penalty-free in the finale. On the first two days, GLOCK's Chamonix (Castillo x Lancer III) also remained penalty free, finishing his first two star Grand Prix with just one knockdown.
<!-–TYPO3SEARCH_end–->