<!-–TYPO3SEARCH_begin-–>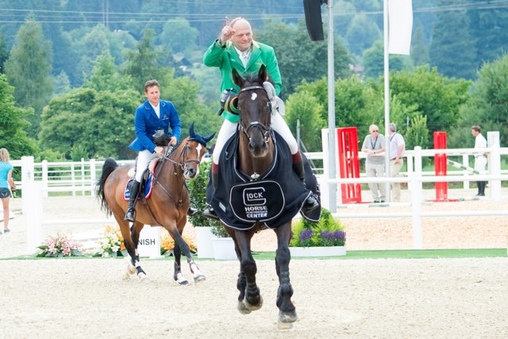 Sunday, 07 July 2013
GLOCK's 2* GRAND PRIX
YES! Thomas Frühmann wins!
What a show of strength it was that Alpenspan team rider Thomas Frühmann (AUT/Vienna) gave today in the ring for GLOCK's 2* Grand Prix. And the World Champion, World Cup winner and Olympic medallist did not leave his 31 rivals in this international LONGINES World ranking jumping competition the ghost of a chance.
It was not easy for the human and equine athletes in GLOCK's 2* Grand Prix. Only seven pairs succeeded in clearing the challenging 1.45 m course with 13 obstacles and 16 jumps in the first round and qualifying for the all-decisive jump-off against the clock.
Torben Köhlbrandt (GER) opened the decider with a fast round and all the poles stayed in their cups. In the end, the time of 40.53 seconds put him and his only eight-year-old Caretino daughter Caretina de Joter in runner-up position.
When our Thomas Frühmann (AUT/Vienna) entered the arena on The Sixth Sense, you could feel the tension mounting. Following a second and third place the previous days, expectations were high. Turns at the very limit and a spirited basic speed finally brought the long-awaited win in GLOCK's 2* Grand Prix (37.98) for the outstanding pair. "Having been out with an injury for such a long time, what The Sixth Sense did here is simply terrific. I want to thank Mr and Mrs Glock for the invitation to the GLOCK HORSE PERFORMANCE CENTER. And also for supporting people in urgent need with their charity projects."
The best female rider was again young Anna-Julia Kontio from Finland on her agile Cassano II. With four penalties and a time of 40.59 seconds she was only marginally defeated, but should be more than happy with third place.
The riding veterinarian, Dr. vet. Georg Hladik (AUT/Lower Austria), also had a knockdown with Parcival Z in the jump-off. Fourth place was however an excellent result (41.98 seconds) that put a broad smile on the experienced equine specialist's face at the awards ceremony. Carinthia again made it into the placings: Marianne Schindele and her Outlaw secured twelfth place with four penalties in the first round and a time of 77.67 seconds.
12 | GLOCK's 2* GRAND PRIX
International jumping competition with jump-off (1.45 m)
Competition counting for LONGINES Ranking List
1. The Sixth Sense - Frühmann Thomas (AUT/Vienna) 0 37.98
2. Caretina de Joter - Köhlbrandt Torben (GER) 0 40.53
3. Cassano II - Kontio Anna-Julia (FIN) 4 40.59
4. Parcival Z - Hladik Dr. Vet. Georg (AUT/Lower Austria) 4 41.98
5. Capoccino - Raytchev Rossen (BUL) 4 50.04
6. Quabs - Schmid Maximilian (GER) 8 44.21
7. Levistino - Bruns Ulrike (GER) 8 48.90
8. Levade 35 - Pessoa Alexa (USA) 4 76.10
9. Roncador - Mayer Jürgen (GER) 4 76.51
10. Wilson - Schans Patrick van der (NED) 4 76.90
11. Cleopatra VI - Martini Monika (GRE) 4 77.10
12. Outlaw - Schindele Marianne (AUT/Carinthia) 4 77.67
Results link
<!-–TYPO3SEARCH_end–->